Introduction
Through themselves, valves cannot control a process. Manual valves need an operator to position them to control a process variable. Valves that must be operated remotely and automatically need special devices to move them. These devices are known as actuators. Types of actuators include manual handwheel, manual lever, electrical motor, pneumatic, solenoid, hydraulic piston, and self-actuated. All actuators except manual handwheel and lever are adaptable to automatic actuation.
Bản thân van không điều khiển được nếu không có bộ dẫn động. Van được vận hành bởi người vận hành hoặc được điều khiển bởi bộ dẫn động. Có các loại bộ dẫ động bằng tay, kêỉu động cơ điện, thủy lực, khí nén…
Manual actuator

Electric Motor Actuators

Electric motors permit manual, semi-automatic, and automatic operation of the valve. Motors are used mostly for open-close functions, although they are adaptable to positioning the valve to any point opening as illustrated in Figure 4. The motor is usually a reversible, high speed type connected through a gear train to reduce the motor speed and thereby increase the torque at the stem. Direction of motor rotation determines direction of disk motion. The electrical actuation can be semi-automatic, as when the motor is started by a control system. A handwheel, which can be engaged to the gear train, provides for manual operating of the valve. Limit switches are normally provided to stop the motor automatically at full open and full closed valve positions. Limit switches are operated either physically by position of the valve or torsionally by torque of the motor.
Kiểu động cơ điện cho phép vận hành bằng tay, bán tự động và tự động cho van. Loại này thường được dùng cho van on/off. Motor thường được kết nốt với một cơ cấu giảm tốc để giảm tốc độ và tăng moment. Có thể có một vô lăng để bộ dẫ động vận hành bán tự động khi cần. Limit switches thường được dùng để dừng động cơ trong trạng thái đóng, mở hoàn toàn. Có thể dùng loại switch cơ khí hoặc dự vào quá moment động cơ (Torque).
Pneumatic Actuators
Pneumatic actuators as illustrated in Figure 5 provide for automatic or semiautomatic valve operation. These actuators translate an air signal into valve stem motion by air pressure acting on a diaphragm or piston connected to the stem. Pneumatic actuators are used in throttle valves for open-close positioning where fast action is required. When air pressure closes the valve and spring action opens the valve, the actuator is termed directacting. When air pressure opens the valve and spring action closes the valve, the actuator is termed reverse acting. Duplex actuators have air supplied to both sides of the diaphragm. The differential pressure across the diaphragm positions the valve stem. Automatic operation is provided when the air signals are automatically controlled by circuitry. Semi-automatic operation is provided by manual switches in the circuitry to the air control valves.
Bộ dẫn động khí nén có thể là loại vận hành tự động, bán tự động, hay bằng tay. Nó chuyển tín hiệu khí nén vào thân van tác động lên màng hoặc piston kết nối với thân van. Bộ dẫn động khí nén thường được dùng trong các van tiết lưu để đóng mở nhanh chu trình. Có 2 loại: Một loại quay lại trạng thái mở của van bằng lò xo và ngắt khí nén, loại thứ 2 có đường khí nén cả 2 bên màng hay piston. Nếu van điều khiển tự động thì tín hiệu khí nén được điều khiển bởi mạch điều khiển, bộ chuyển đổi tín hiệu dòng thành áp suất (IP).
Pneumatic actuator with control ball valve:
[wpvp_embed type=youtube video_code=GM2SintL6Ak ]
Hydraulic Actuators
Hydraulic actuators provide for semi-automatic or automatic positioning of the valve, similar to the pneumatic actuators. These actuators use a piston to convert a signal pressure into valve stem motion. Hydraulic fluid is fed to either side of the piston while the other side is drained or bled. Water or oil is used as the hydraulic fluid. Solenoid valves are typically used for automatic control of the hydraulic fluid to direct either opening or closing of the valve. Manual valves can also be used for controlling the hydraulic fluid; thus providing semi-automatic operation.
Tương tự như dẫn động bằng khí nén, bộ dẫn động thủy lực cũng dùng cho loại tự động và bán tự động. Dầu hoặc nước được sử dụng tác động vào piston để tác động làm di chuyển thân van. Van điện từ dùng để điểu khiển áp lực dầu trực tiếp điều khiển đóng/mở van.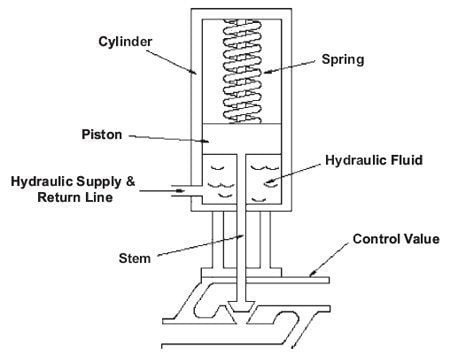 [wpvp_embed type=youtube video_code=YPkNqg7n8LM ]
Speed of Power Actuators
Plant safety considerations dictate valve speeds for certain safety-related valves. Where a system must be very quickly isolated or opened, very fast valve actuation is required. Where the opening of a valve results in injection of relatively cold water to a hot system, slower opening is necessary to minimize thermal shock. Engineering design selects the actuator for safetyrelated valves based upon speed and power requirements and availability of energy to the actuator.
In general, fastest actuation is provided by hydraulic, pneumatic, and solenoid actuators. However, solenoids are not practical for large valves because their size and power requirements would be excessive. Also, hydraulic and pneumatic actuators require a system for providing hydraulic or pneumatic energy. The speed of actuation in either case can be set by installing appropriately sized orifices in the hydraulic or pneumatic lines. In certain cases, the valve is closed by spring pressure, which is opposed by hydraulic or pneumatic pressure to keep the valve open.
Electrical motors provide relatively fast actuation. Actual valve speed is set by the combination of motor speed and gear ratio. This combination can be selected to provide full valve travel within a range from about two seconds to several seconds.
Trong những yêu an toàn cao đòi hỏi tốc độ đáp ứng của actuator phải nhanh để cách ly hoặc mở chu trình. Ngược lại trong các chu trình cần tránh sự chênh lệch nhiệt độ đột ngột cần tác động chậm hơn. Việc lựa chon tốc độ đáp ứng của actuator là cần thiết.
Thứ tự tác động nhanh thường là bộ dẫn động thủy lực, khí nén rồi mới đến điện từ, tuy nhiên loại điện từ không dùng cho những van lớn vì yêu cầu nguồn điện. Loại dẫn động bằng động cơ cũng tác động tương đối nhanh.
Valve Position Indication
Operators require indication of the position of certain valves to permit knowledgeable operation of the plant. For such valves, remote valve position indication is provided in the form of position lights that indicate if valves are open or closed. Remote valve position indication circuits use a position detector that senses stem and disk position or actuator position. One type of position detector is the mechanical limit switch, which is physically operated by valve movement.
Another type is magnetic switches or transformers that sense movement of their magnetic cores, which are physically operated by valve movement.
Local valve position indication refers to some visually discernable characteristic of the valve that indicates valve position. Rising stem valve position is indicated by the stem position. Nonrising stem valves sometimes have small mechanical pointers that are operated by the valve actuator simultaneously with valve operation. Power actuated valves typically have a mechanical pointer that provides local valve position indication. On the other hand, some valves do not have any feature for position indication.